SU and Maxwell's Commitment to Veteran Students and their Families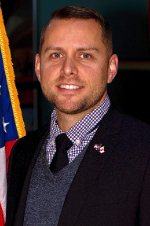 In honor of Veteran's Day, it seems fitting to post a student story highlighting of one of the many student veterans engaging in graduate study at Syracuse University.  At Syracuse and the Maxwell School, we applaud and support our student veterans and their families.
Syracuse University is a Yellow-Ribbon University and one of the premier institutions supporting Veterans and their families.  We are pleased to support our active duty military, veteran students and their families within the Maxwell School in a variety of ways.  We are extremely proud to be one of the University partners with Soldier Strong.  [Soldier Strong is a 501(c)(3) charitable organization whose mission is to provide revolutionary technology, innovative advancements and educational opportunities to veterans to better their lives and the lives of their families.]
Dan Cordial was recently named a 2019 Soldier Strong Scholar.  Soldier Strong was co-founded by Maxwell alum and Advisory Board Member, Christopher Meeks.  This particular Scholarship provides critical bridge funding to exemplary graduate student veterans who have a gap in Post 9-11 GI Bill benefits.  At Maxwell we select student veterans who have excelled in their studies and demonstrate continued commitment to careers related to public service.  Past Maxwell Soldier Strong Scholars include Christopher Tonsmeire, Jordan Robinson, Sam Orlan, Jesse Campion, Mitch Forbes and Robert Rivera.  We are delighted to recognize Dan Cordial as the most recent recipient of a 2019 Soldier Strong Scholarship.  Please see his story below!
[The following student spotlight is drawn from an article posted today, 11/11/19 in SU News and written by Leah Lazarz ]
Dan Cordial '18, M.P.A. '20 Gets a Second Chance at Syracuse
Sometimes a person just needs a second chance. It can be something as small as a chance to redo an assignment for a class or something as big as a second chance at going to college. For U.S Army veteran Daniel Cordial, as he stepped foot onto the Syracuse University campus, he was taking advantage of a second chance at working towards the life he wanted.
After serving five years as a welder and completing multiple deployments to Iraq, Cordial decided to leave the Army. At the time, he was married to another soldier, and they were expecting a son. He used his trade from the military to find work and he came face-to-face with a reality that many civilians in the manual labor workforce experience.
"I was laid off a month after my son was born," Cordial says. "It was, oddly, a unique opportunity because I was able to be a stay-at-home dad. I really enjoyed having that time with my son, but after a while I knew I needed to do something. I needed to be bringing money in. I was looking at jobs and couldn't find anything that really interested me."
Cordial eventually decided to use his Post-9/11 G.I. Bill to go back to college, starting off at the local community college for a year and a half and working towards studying engineering.
"I attended the University of South Carolina at Columbia for two semesters," Cordial says. "That just didn't really work out well for me. I kept going to people for issues I was having, and I was just getting a cold shoulder. That led to failure."
Cordial experienced what many veterans do as they use their G.I. Bill. While colleges and universities have certain language targeted to attract veterans to their campus, veterans often don't necessarily feel that their unique needs are being met.
"When my former wife was stationed at Fort Drum, I decided I wanted to come this way to be closer to my son," Cordial says. "So, I applied to Syracuse University and Le Moyne College, two schools I had never heard of before."
He was accepted to Syracuse University and decided to change his degree to better suit his interests and desire to remain in public service. At the University, Dan experienced an entirely different way of life for student veterans. With support from veteran-focused groups like the Peer Advisors for Veteran Education, the Student Veterans Organization, the Office of Veteran Success and the Office of Veteran and Military Affairs, Cordial found the support he was lacking before.
"Being a veteran here at Syracuse is actually pretty awesome," he says.
Cordial graduated with a degree in political science in 2018 and was accepted to the Executive Master's in Public Administration program at the Maxwell School. During his time at the University, he also has found a unique chance to use his veteran status to impact the local community.
"During my senior year, I was accepted to an internship in the office of Assemblywoman Pamela Hunter (D-Syracuse)," Cordial says. "After that internship was over, they called me up and offered me a job that had a flexible schedule so that I could continue school."
After Cordial obtains his M.P.A. degree next year, coupled with his service in the U.S. Army and his experience working in the New York State Assembly, Cordial plans to pursue a career in government, preferably in an intelligence capacity.
"I've really enjoyed my time here at Syracuse," he says. "It's been great, and I truly feel that this is the best place for veterans."
———————————————————————————–
SoldierStrong is a 501(c)(3) charitable organization whose mission is to provide revolutionary technology, innovative advancements and educational opportunities to veterans to better their lives and the lives of their families.
————————————————————————————
RELATED LINK
SU's Chancellor Syverud honored with Champion for Veterans in Higher Education Award
Search
Posts by Date
December 2023
M
T
W
T
F
S
S
1
2
3
4
5
6
7
8
9
10
11
12
13
14
15
16
17
18
19
20
21
22
23
24
25
26
27
28
29
30
31
Subscribe to Blog via Email