SU's Chancellor Syverud honored with Champion for Veterans in Higher Education Award
Syracuse University Chancellor Kent Syverud is the recipient of the Student Veterans of America's (SVA) inaugural William Pearson Tolley Champion for Veterans in Higher Education Award.
SVA, a nonprofit coalition of more than 1,200 student veteran organizations at colleges and universities across the U.S., presented the award to Chancellor Syverud and Syracuse University Saturday night at its annual national conference in Florida. The conference honors the legacy of veterans in higher education, celebrates their success and showcases the contributions of those whom have demonstrated leadership on behalf of veterans pursuing higher education and meaningful careers.
"I have deep respect for the contributions of our veterans and their families to society broadly, and specifically within an educational setting," Chancellor Syverud says. "To be acknowledged by this amazing group of student-veterans is not only humbling, but also a great honor. I value the role higher education plays in helping veterans transition to civilian life, and at the same time recognize and value the many ways veterans are uniquely positioned to make our colleges and universities better—more inclusive, and more dynamic institutions."
The award, which is named after William Pearson Tolley, Syracuse University's seventh Chancellor, recognizes an individual, organization or institution committed to improving the quality of higher education for student veterans.
The recognition comes less than two years after Chancellor Syverud delivered his inaugural address in Hendricks Chapel, where he outlined his long-term vision for the University. "Syracuse University must, once again, become the best place for veterans," he told the audience, citing four areas that are essential for the campus to thrive. Since then, Chancellor Syverud has worked tirelessly to bring that vision to life.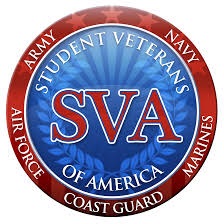 SVA provides military veterans with the resources, support and advocacy to ease veteran and active military students' transition into higher education, and in support of their persistence while engaged in the educational experience. The organization cited many of Chancellor Syverud's accomplishments, including the following:
Created the position of Vice Chancellor for Veteran and Military Affairs, and established the Office of Veteran and Military Affairs;
Founded working groups across campus to identify and assess ways to improve the overall experience of student veterans and their dependents, military students and veteran employees;
Ensured various nonacademic units, including admissions, enrollment management and career services, have employees trained specifically to serve the veteran population;
Created the Syracuse University Veteran Affinity Group, a resource for faculty and staff veterans on campus;
Eliminated restrictions on the University's Yellow Ribbon award program, enabling an unlimited number of student veterans to attend the University within the funding threshold established by the post-9/11 GI Bill®;
Provided early registration for student veterans, standardized prior learning-assessment and transfer credits for military experiences, and developed academic degree programs with veterans in mind, such as the MBA@Syracuse and the MBA for Veterans;
Strengthened the partnership between Syracuse University Athletics and the local veteran/military community (e.g., honoring Hometown Heroes during home football games, hosting Military Appreciation Day at fall athletics events, organizing the annual Stars and Stripes Tailgate);
Instigated the Fort Drum Partnership, a summer football training camp for athletes and Fort Drum soldiers; and
Championed the creation and construction of a National Veterans Resource Complex at Syracuse University, to position the University as a national hub of research, thought leadership, and programming for veterans and military families.
"Chancellor Syverud is a tireless advocate for student veterans, and has been setting an example for universities across the United States to increase their efforts in serving our nation's veterans," says Jared Lyon G'13, SVA's president and CEO. "Syracuse University's distinguished record of accomplishment for veterans on and off campus in education and training makes him and Syracuse University worthy of this honor, and it is fitting that a Syracuse University chancellor is receiving the first annual William Pearson Tolley Champion for Veterans in Higher Education Award."
Chancellor Tolley, the award's namesake, served the University from 1942 until 1969. Following World War II, he recognized the role that higher education could play in advancing the nation's returning veterans. Thus, Chancellor Tolley was directly involved with movements to bring World War II veterans home to college campuses after their service, and helped draft the Servicemen's Readjustment Act of 1944, known in its modern iteration as the G.I. Bill®.
Reposted item from SU News – written by SU New Staff, Monday, January 11th
Search
Posts by Date
May 2023
M
T
W
T
F
S
S
1
2
3
4
5
6
7
8
9
10
11
12
13
14
15
16
17
18
19
20
21
22
23
24
25
26
27
28
29
30
31
Subscribe to Blog via Email