The Maxwell School has named two graduate students in public administration and international affairs as the inaugural Jean and Dick Thompson Graduate Scholars.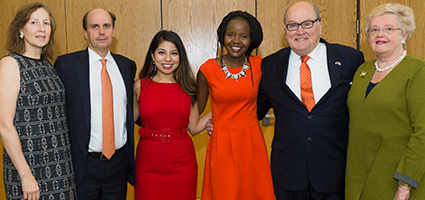 The Jean and Dick Thompson Endowed Graduate Scholarship was established in the spring of 2015 by the Board of Trustees as Dick Thompson concluded his term as chairman of the board. The fund serves as a testament of appreciation for the Thompsons' commitment to the University and the Maxwell School. It is designated to support graduate students enrolled in Maxwell, where Dick was himself a graduate student in the late 1960s.
Steven Barnes, the current chairman of the SU Board of Trustees, began the work of endowing the fund almost immediately upon assuming Thompson's former role. Of the Thompsons, Barnes says, "They have always worked as a team for the benefit of the University. Dick and Jean's contributions have left the University stronger, and their life and work exemplify the beliefs of the Maxwell School. This scholarship honors all that Dick and Jean have done for Syracuse University."
The inaugural Thompson Scholars, selected by the dean of the Maxwell School, are:
Amy Majani of Nairobi, Kenya, who is pursuing her master's in public administration. Majani received her bachelor's degree in political science in 2014 from the East Stroudsburg University of Pennsylvania.
Sonia Rangel of El Paso, Texas, who is studying for a joint M.P.A. and master's in international relations. Rangel is a 2010 graduate of the University of Texas at Austin, where she received her B.A. in history and a minor in journalism.
Dick Thompson first arrived at the University as a political science graduate student in 1966; he earned his M.A. in political science at Maxwell in 1967. His wife, the former C. Jean Terry, earned a B.A. in social studies education at the University in 1966.
Since that time, the Thompsons have held an unflagging commitment to the University and its values. Prior to his tenure as chairman of the Board of Trustees, Dick served on the boards of advisors for both the Maxwell School and the Whitman School of Management. He joined the University's Board of Trustees in 2001 and concluded his four-year term as chairman in 2015; he now holds the title of chairman emeritus. He continues his commitment to the University as a member of the board of directors for the Institute for Veteran and Military Families.
Dick Thompson is former senior vice president of policy and government affairs for Bristol-Myers Squibb Co. Since 2014, he has served as senior counsel in healthcare and pharmaceutical sectors at Akin Gump Strauss Hauer & Feld in Washington, D.C.
"We are particularly pleased that members of the Board of Trustees and other University leaders choose the Maxwell School as the place to honor Jean and Dick's long and distinguished service to Syracuse University," says James B. Steinberg, dean of the Maxwell School. "Sonia and Amy, our first Thompson Graduate Scholars, are outstanding representatives of this great tradition of excellence and service.  I am certain they will be joined by generations of highly successful graduate students who will similarly reflect Jean and Dick's commitment to Syracuse University and to the Maxwell School."
"The Maxwell School is one of the greatest institutions in the world," says Dick Thompson. "I was honored to be a student here and to serve Syracuse University as chairman. We are humbled and overwhelmed to be a part of this new tradition at the Maxwell School and grateful that the board endowed this scholarship in our name."
Both of the inaugural Thompson Scholars expressed appreciation for the fund and the couple it honors.
"When I first heard about the award," Majani explains, "I was overwhelmed. I am so grateful to receive this award and humbly honored to be one of the first recipients. Their kindness has proved to be a load off my mind, allowing me to focus on my studies."
Before arriving at Maxwell, Majani worked as a projects assistant at Middle Smithfield Township in Pennsylvania. After graduation, she would like to put her degree to work in local economic development "in a capacity that would enable me to facilitate public-private partnerships that are geared towards economic progress."
Rangel formerly served as a fellow with the Congressional Hispanic Caucus Institute, working under Representative Xavier Becerra (D-CA). She has also worked as a mentor and teacher in her hometown of El Paso, as well as an advocacy and political campaign consultant in Washington, D.C., prior to her arrival at Maxwell.
"The Thompson Fund Scholarship Award is life-changing for me as it lifts a financial burden off my chest for the rest of this year. I am incredibly honored and grateful to receive this award," says Rangel. With her M.P.A. and M.AIR. degrees from Maxwell, Rangel hopes to return to Washington after graduation and work on US-Latin American affairs, with her sights on the U.S. State Department, USAID or the Inter-American Development Bank; or as a consultant.
"We recognize that, since our time at Syracuse, the price of graduate school has grown," says Dick Thompson. "It is especially gratifying that Maxwell can use this scholarship as another tool to recruit and retain committed, high-quality students to attend the Maxwell School for many years to come."